AGRICULTURE INDUSTRY
It takes thousands of moving parts to keep your grain handling operation running smoothly. If even one malfunctions, the entire system can fail.
Binkelman has the smart solutions you need to maintain your grain handling system, from harvest management to daily product transfer and loading.
Take a look at some of our featured products for use in the agricultural industry. Contact us for more information or request a quote online.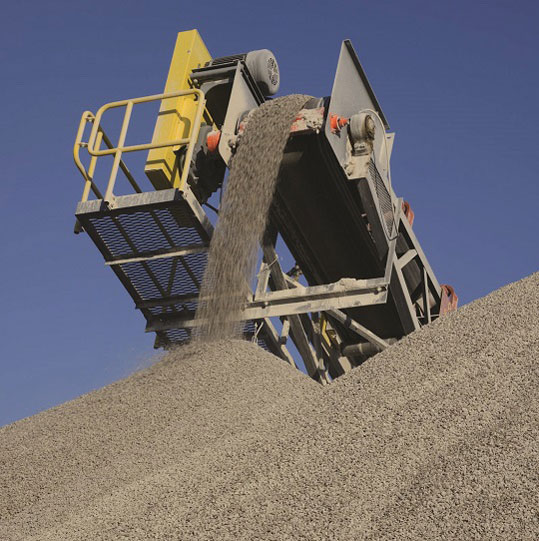 SMART SOLUTION #278:
Replacing Shaft-Mounted Gear Boxes
One of the ways we've helped our agricultural customers is replacing older straight bore shaft mounted gearboxes with ABB Dodge Torque-Arm II reducers by utilizing their Short Shaft Twin Tapered Bushing Kit.
A long time ago, the only type of shaft mount gearboxes available were straight bore units and they didn't require much shaft. In recent years, most manufacturers stopped making the straight bore units due to improved tapered bushing systems.
The problem is that if an existing straight bore unit goes bad, you can't just swap it out because there isn't enough shaft on the old unit to accommodate the newer tapered designs available from most manufacturers.
SMART PRODUCT SOLUTIONS
PPI Grain Herringbone Wing Conveyor Pulley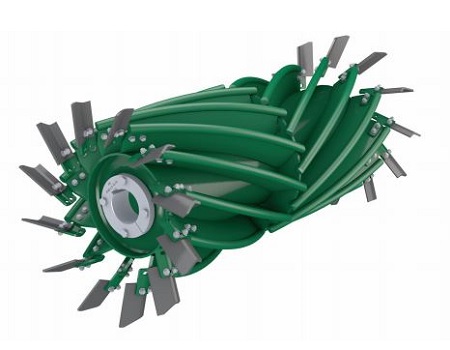 The PPI Grain Herringbone Wing® Conveyor Pulley offers improved wear, quieter operation and gentler grain handling compared to standard wing pulleys.
This PPI pulley model was designed for applications in which conventional wings suffer from excessive material lodging and wing folding. The extreme wing angles of up to 45° use the pulley's rotation to eject material out the sides of the pulley rather than recirculating it as a conventional wing often does.
These extreme angles and optimized wing height, along with a center reinforcement disc, combine to make an incredibly strong design that excels where others fail.
FEATURES AND BENEFITS
Bolt-on brackets with rubber flippers gently scoop up grain and circulate it back onto the belt
Angled wings direct grain to the outside edges of the pulley more efficiently
Increased number of wings gives more support to thin grain belting
3/8" wings standard
1" AR contact bar extends wear life
Note: Install with herringbone pointed in the direction of belt travel.
simalube Self-Lubricator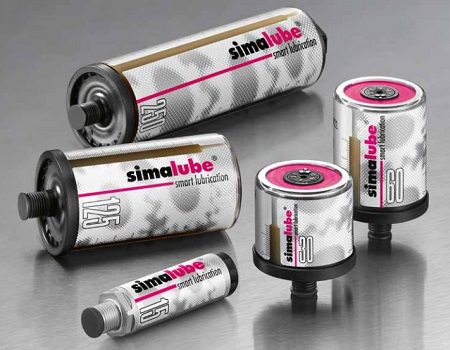 Continuous lubricant delivery with simalube effectively prevents insufficient or over-lubrication that often occurs with manual lubrication.
Available in 5 sizes, simalube supplies various lubrication points with lubricant around the clock for up to one year.
simalube is ideal for confined, hard-to-reach areas and can be used in any location – even underwater – at ambient temperatures ranging from -4 °F to +131 °F.
FEATURES AND BENEFITS
Up to 30% lower costs
Fewer maintenance intervals needed
Increased machine performance and longer machine life
Less unplanned downtime
Freely selectable dispensing cycle of 1 to 12 months, which can be modified at anytime
Large range of accessories allows for numerous dispensing options
Dodge Motorized Torque Arm (MTA)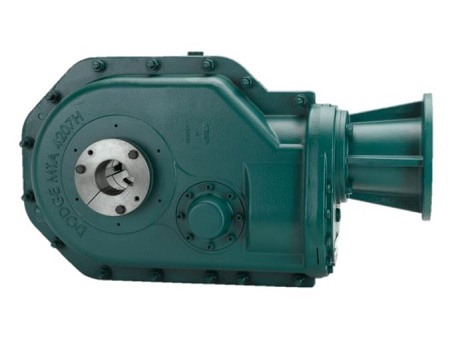 Dodge Torque-Arm speed reducers are the standard of the industry and the benchmark to which others are compared.
Responding to overwhelming customer demand, we have now introduced a line of HEAVY DUTY right angle beltless Torque-Arm reducers for customers who need the power and performance of a truly rugged gearbox for more demanding applications.
Bearings are sized to conform to American Gear Manufacturers Association and American Bearing Manufacturers Association design of an unadjusted minimum of 25,000 hrs average life (L-50) in Class I applications. This is usually twice the bearing life of many competitive reducers that are not designed to this standard.
The three-piece coupled design utilizes standard Baldor Electric NEMA c-face motors in two motor speeds and multiple gear ratios to provide a wide spectrum of output speeds.
FEATURES AND BENEFITS
Reduced assembly time, guarding costs and maintenance requirements
Ratings from 3hp to 100hp
Tapered roller bearings on all helical shafts
Optional bushing end covers
Reducer mounts in multiple positions
AGMA and ABMA Rated
Advanced Sealing System
PPI Retro Grain Idler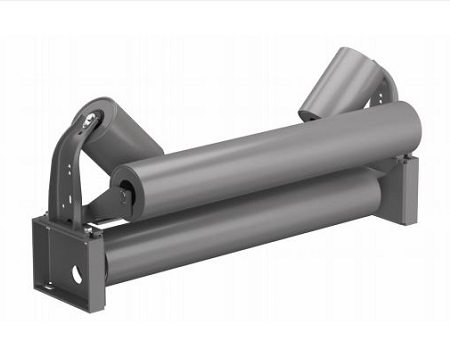 PPI has taken its retro roll expertise into the grain handling industry by retro fitting cast iron stanchion style idlers.
Converting to PPI's sealed-for-life ball bearing eliminates the maintenance requirement on the older cast iron rolls equipped with a flange bearing design.
Based on customer needs, PPI offers compatible idler assemblies from the ground up or specific retro rolls that drop into existing framework.
FEATURES AND BENEFITS
Maintenance free ball bearing design
Equipped with PPI's proven LXT seal system
Low roll drag keeps HP requirements at a minimum
Drop into existing framework
Adjustable adapter nuts allow fine tune adjustment
Available in CEMA C and D
Contact PPI engineering for your unique needs
Toshiba XP Explosion Proof Motors
Toshiba's Explosion Proof motor series is specifically designed for traditionally hazardous industries where explosive gases and vapors are present.
The EQP Global® XP Explosion Proof motor is a totally enclosed fan-cooled product line equipped to contain an explosion that may occur inside the motor, as well as prevent explosive gases and vapors from being released into the environment. Its robust construction meets the requirements for UL- and CSA-Listed Hazardous Locations and offers the highest performance and reliability for indoor and outdoor use.
Built for the petrochemical, mining and mineral, pharmaceutical, and agricultural industries, the EQP Global XP is designed to meet or exceed the competitive demands of the global market while maintaining the reliability and quality expected from Toshiba, making this product line one of the lowest cost-of-ownership products in the industry.
FEATURES AND BENEFITS
Three-year warranty
Low voltage
Cast iron construction
Severe duty, suitable for use in Division 1 hazardous locations
Roller bearing available on Frames 440 and above
ASD-Turndown Capabilities

Frames 143T through 326T 20:1CT, 60:1VT, 1:1.5CHP
Frames 360 through N449 10:1CT, 60:1VT, 1:1.5CHP

C-Flange footed and footless Available
Horsepower 1 to 1,000 HP
Continental Pathfinder Conveyor Belt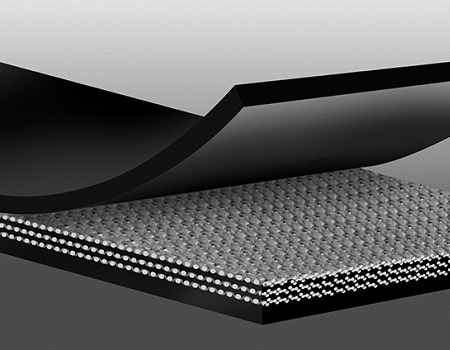 Pathfinder® Plus' exceptionally low electrical resistance and superior oil resistance properties provide excellent operational safety and long life.
Pathfinder Plus is designed to withstand harsh operating conditions, so its ideal for a variety of applications, including grain elevator, grain storage and grain transfer.
The tensile force required to break a 48 in. Pathfinder 375 PIW belt is 180,000 pounds. Permanent elongation averages 0.8% at 100% of rated operating tension.
FEATURES AND BENEFITS
High ultimate strength
Oil resistant covers
Low belt elongation increases productivity and reduces downtime
Static conductive, low electrical resistance, flame resistance
Excellent bolt holding capabilities
Excellent adhesion values
Flexible crimped warp fabric design