MINING INDUSTRY
You're moving tons of material every day. You need material handling equipment and components that can stand up to these loads.
Binkelman can supply the smart solutions you need to increase speed and efficiency, without compromising equipment life.
Explore some of our featured products for use in mining industry applications below. Contact us for more information or request a quote online.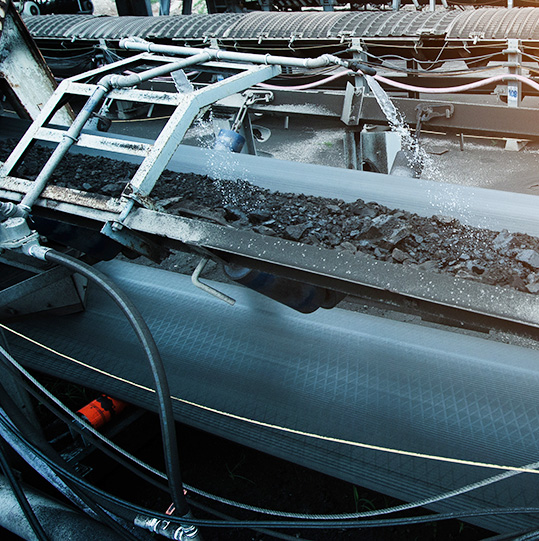 SMART SOLUTION #194
An aggregate customer recently installed a conveyor and began experiencing issues with material carry back.
They were conveying sand and stone from their dredge, which included all sizes of stone mixed with very wet sand. The material carry back was making a mess on the return side of the conveyor – which required a lot of man hours to clean up – and also causing tracking issues with the conveyor belt.
Binkelman and Flexo representatives made a visit to the customer's worksite and determined that this was an ideal application for Flexco's Portable Air Tensioning System (PAT).
SMART PRODUCT SOLUTIONS
ContiClean® non-stick belt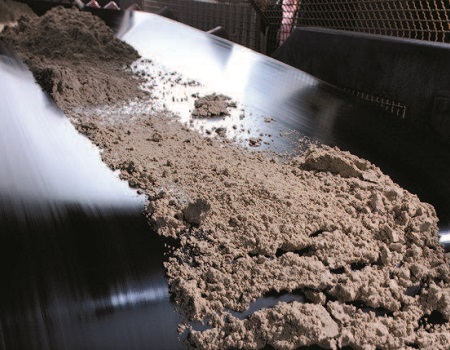 Keeping material from sticking to belts is vital to keeping your operation profitable. ContiClean® non-stick conveyor belt offers superior material release for everything from coal to iron. It also reduces adhesion of moist materials such as desulpherized gypsum, ash and wood chips, so you don't have to clean as much.
Ideal for use in a variety of industries, including aggregate, bulk handling terminal and mining. Suitable for a wide range of wet and dry materials, such as cement, coal, ore, potash and sand.
FEATURES AND BENEFITS
Lower operational costs
Increased material transfer and productivity
Reduced buildup on idlers
Increased belt life
Improved scraper life
Martin Clean Flight® Wing Pulley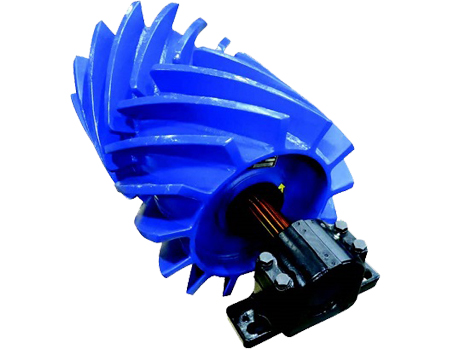 Whether you're conveying light or extremely bulky materials, the patented Clean Flight® Wing Pulley from Martin offers distinct construction advantages.
Each flight lies perpendicular to the pulley core, resulting in a much stronger design. It's constructed with aggressive materials and thick flights. The open herringbone flight placement allows for better material rejection.
Continuous welds are available upon request.
The Clean Flight® Wing Pulley is available in three duty models, each using the longest pitch possible for diameter and face width.
Standard Duty – 1/2″ Flight, 1/4″ Rim | 3/8″ End-Discs
Mine Duty – 3/4″ Flight, 3/8″ Rim| 1″ End-Discs
Quarry Duty – 31″ Flight, 1/2″ Rim | 1-1/4″ End-Discs
FEATURES AND BENEFITS
Noise reduction
Less operational vibration
Less stress on belt, splice and bearings
Enhanced belt tracking
Optimized belt cleaning
Improved material rejection
Flexco PT Max™ Belt Trainer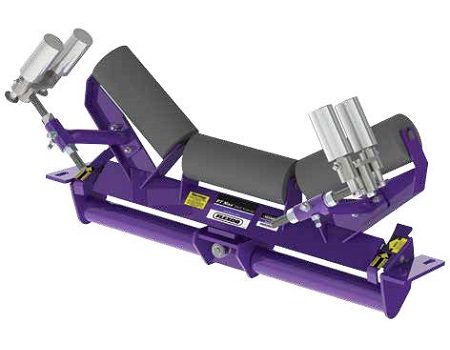 This isn't your typical belt trainer. With a unique 'pivot and tilt' design, Flexco's PT Max™ instantly reacts and compensates for belt misalignment, keeping the belt away from the structure and keeping the materials on the belt.
The PT Max delivers superior training action that makes it easy to keep even the most troublesome belts on track and on the job permanently.
Multiple Applications
Top side or return side belts
Heavy duty or medium duty operations
Wet or dry conditions
Belts mistracking to one side or both sides
FEATURES AND BENEFITS
Custom-built for your application
Long service life
Works with mechanically fastened and vulcanized belts
Dodge® Torque-Arm II (TAII)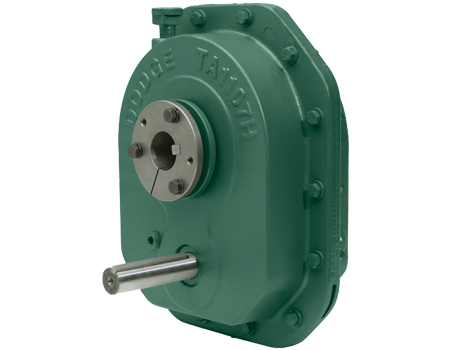 Dodge® Torque-Arm speed reducers are the standard of the industry and the benchmark to which others are compared. The Dodge® Torque-Arm II offers unparalleled torque ratings and is quickly becoming the new industry standard.
Improved features include: an all-new backstop concept, a patented sealing system, a steel motor mount system, a state-of-the-art, totally modular design with an expanded ratio range to 40:1 and a patented twin tapered bushing system.
FEATURES AND BENEFITS
Three large pry slots for easy rebuilding
Class I starting load capability of 200%
Modular construction and accessories
No lubrication required
Increased torque and horsepower ratings
25,000-hour average life
5,000-hour L-10 bearing life
ABB Dodge® Safety Mount Bearings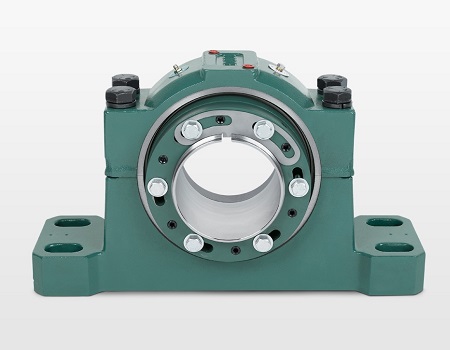 The Dodge Safety Mount spherical roller bearing uses an innovative mounting design in which fasteners replace the blows of a hammer. This patented system allows for safer, easier and more accurate installation. It also reduces installation time up to 75% compared to traditional products found in industrial applications.
Safety Mount bearings feature a triple-lip contact seal and corrosion-resistant flinger sealing system that prevents contamination from entering the product during installation and operation. A labyrinth seal option is available for high-speed and high-temperature applications.
Dodge Safety Mount spherical roller bearings also come ready for installation of the ABB Ability™ Smart Sensor for mounted bearings – an easy-to-use, wireless sensor that monitors the health of bearings.
FEATURES & BENEFITS
Factory sealed and greased
Shaft-ready out of the box
No feeler gauges required
Modular construction and accessories
No lubrication