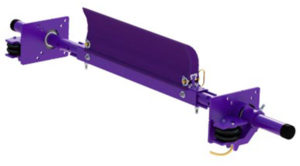 An aggregate customer recently installed a conveyor and began experiencing issues with material carry back.
They were conveying sand and stone from their dredge, which included all sizes of stone mixed with very wet sand. The material carry back was making a mess on the return side of the conveyor – which required a lot of man hours to clean up – and also causing tracking issues with the conveyor belt.
To solve the issue, the customer installed a Flexco MMP Medium-Duty Precleaner and a standard quick-mount spring tensioner. This solution worked well in the short term, but due to the volume of material being conveyed, the blade needed to be adjusted on a weekly basis.
The rigors of conveyance and the location of the cleaner, which required a manlift to re-tension the unit, made it difficult to keep the cleaner blade at the proper tension to get thorough consistent cleaning of the belt.
Binkelman and Flexo representatives made a visit to the customer's worksite and determined that this was an ideal application for Flexco's Portable Air Tensioning System (PAT).
Flexco's PAT system is a belt cleaner tensioning system that uses air or nitrogen to provide constant pressure for premium cleaning. The PAT system uses air springs to tension the cleaner blades and requires minimal maintenance as the blade wears.
Since the worksite was in a remote location without plant air or nitrogen, we also used the PAT air tanks, which allowed us to mount the tanks and control box in an easily accessible location to do the small amount of tensioning that is required.
We were also able to convert their existing spring tension system over to the PAT to help save cost, and we also added a Flexco MHS Heavy-Duty Secondary Belt Cleaner to the PAT system to further increase their cleaning efficiency.
With installation help from Flexco's Joe Sall and the outstanding performance of the PAT system, the customer's carry back issues have completely resolved. They were very pleased with their investment and have even asked for our assistance solving some of their other issues.